• Design • download • New Products • wallpaper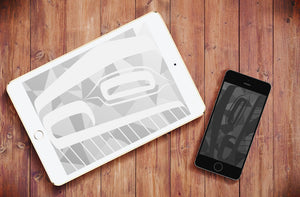 We've made some Spirit Face wallpapers for your digital devices! Free download links below!   IMAGE LINKS HERE:                -Ipad, Ipad Mini, or other Tablets 1536x2048 DARK LIGHT -Common Phone Size 320x480 DARK LIGHT -Iphone 6  750x1334 DARK LIGHT -Iphone6+, HTC One 1080x1920 DARK LIGHT -Samsung S6 edge, Samsung Galaxy,LG G4 1440x2560 DARK LIGHT                                              
---
• Article • Design • New Products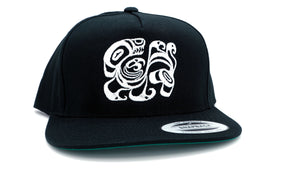 We recently got some rad snap back caps in, since this design has a longer cultural story we wanted to share it. Check it out: Gunakadeit is both human and a creature of the sea.    The Tlingit, Haida and Tsimshians believe that humans and animals are interrelated.  Humans can transform into animals and animals likewise into humans.   Long, long ago, young man was disdained by his mother-in-law as lazy. She criticized him for sleeping while others were working.     One day as he was walking along the shore, he saw a monstrous being arise from the sea.  He devised...
---
We got some new Sunglasses in! Check it out, designed by myself (Rico Worl). The design represents a cluster of human faces. The glasses are called "Town Meeting". With this design I am speaking to the vital need for people to be involved with their communities. Get out there and vote, be aware of what and who our leaders empower. In your home towns get involved with local boards, commissions, councils, and assemblies. The greater the diversity in community leadership, the more room there is for greater equality. Represent!  
---
• Juneau Empire • New Products
Thanks Marlena Sloss for sharing the great photo in Todays Juneau Empire. Page 2 : D Just received 3 new models of Skate decks in the mail. Should be opening the brickand mortar next week. Check out the window display. We set it up so people can window shop in the meantime. Check out the photo here: http://juneauempire.com/local/2014-06-18/photo-trickster-company#.U6HvJ_ldWFV   Here are the new Boards:   The Eagle and Raven decks. These are a reproduction of the original Trickster Co. Skateboards in their minimalist form. It focuses on the intricate lines of the Eagle and Raven designs. Eagle and raven are...