Trickster Company is a way to explore living with traditional Northwest Coast values in today's world

We focus on Northwest Coast art and explore themes and issues in Native culture

We strive to represent a prestigious lineage of art in fresh and energetic ways as a celebration of Northwest Coast culture as it lives today

We are active advocates of diversity in community and work to promote diversity in civic engagement
Trickster Company is a way to explore living with traditional Northwest Coast values in today's world
We focus on Northwest Coast art and explore themes and issues in Native culture
We strive to represent a prestigious lineage of art in fresh and energetic ways as a celebration of Northwest Coast culture as it lives today
We are active advocates of diversity in community and work to promote diversity in civic engagement
We are Trickster Company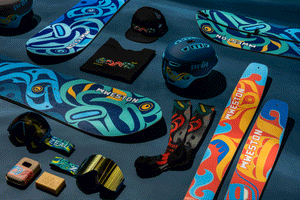 The Haa Aaní Alliance Collection!
Trickster Company is extremely pleased to partner up with and form the Haa Aaní Alliance with our fellow brands – Weston, Zeal Optics, Smartwool, Pret and MountainFLOW Eco-Wax.  Trickster Company co-founder and artist, Crystal Worl, was engaged to create the visual storytelling of The Salmon Way of Life (Xâat Kusteeyí).  Our environment is circular and our watersheds begin in the mountains. As skiers and boarders, we share a responsibility to ensure that everything downstream from us thrives as we enjoy our ability to slay pow. 

This collaboration has resulted in a unique collection of goggles, skis, snowboards, socks and accessories featuring Worl's artwork. The artwork honors her heritage and a portion of proceeds benefits three non profit organizations: Yukon Salmon, Wild Salmon Center and the North Atlantic Salmon Fund.
Click Here to See Products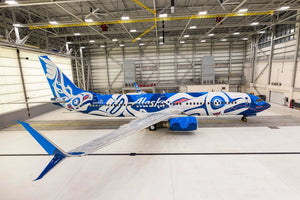 Crystal Worl, co-founder of Trickster Company, designs Alaska Airlines aircraft taking Indigenous language and art to the skies!
May 11, 2023
We're honored to reveal Crystal's latest masterpiece: Xáat Kwáani (Salmon People). It's the first aircraft in the history of any domestic airline to be named in an Alaska Native language and to depict the ancestral importance through Northwest Coast formline art.
Alaska Airlines News Story here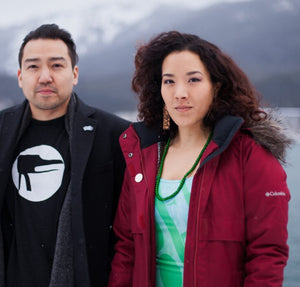 Meet the Indigenous Designers Behind Trickster Company
As Indigenous artisans and designers, Rico and Crystal strive to represent modern Indigenous lifestyles to a broader audience through a distinctive Indigenous artform known as Northwest Coast formline art. They envisioned a business that included a gift shop in downtown Juneau that sold fine art, products for modern Indigenous people to represent their heritage, and products for non-Native people to appreciate without cultural appropriation. As active advocates of diversity in communities, Rico and Crystal Worl also promote diversity through their civic engagement.
News
Looking for the perfect gift that not only brings joy to your loved ones but also supports Indigenous businesses? Look no further! Dentons, a global law firm, has curated a...
Tear of joy as I write this blog about a news story from Ketchikan, AK.  Students in Ketchikan, Alaska were tracking the inaugural flight of the Alaska Airlines plane designed...