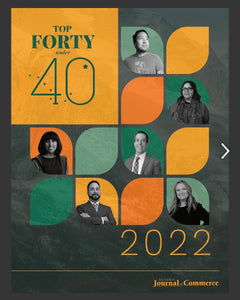 This month the Alaska Department of Commerce awarded Rico Worl a Top 40 under 40 award! They did a quick interview, read here and flip to page 54 to catch the latest interview:  Check out the publication and learn about a great group of Alaskan awardees here!    
---
Rico Worl was honored with a number of high profile interviews during the excitement around producing the Raven Story stamps. One exciting one was on the Forbes.com website!  https://www.forbes.com/sites/nadjasayej/2020/12/16/native-american-artist-rico-worl--designs-us-postage-stamp/?sh=49329042e09e
---
A major goal I always carry when doing my work is that I always want to be able to represent and educate others to Tlingit culture. Designing the Raven Story stamp was a big part of that. And I hope it encouraged many people to look the Raven Story up and hear it or read about it. Here is a video recording of story teller Lily Hope telling the Raven and the Box of Daylight story. 
---
Rico Worl founded Trickster Company in Juneau, Alaska in 2014, starting with his popular hand-painted skateboards and a successful Kickstarter campaign that funded a unique deck of playing cards designed with Northwest Coast formline art. Rico's sister, Crystal Worl, joined him as a business partner after earning her Bachelor's degree in Art and Design.As Indigenous artisans and designers, Rico and Crystal strive to represent modern Indigenous lifestyles to a broader audience through a distinctive Indigenous artform known as Northwest Coast formline art. They envisioned a business that included a gift shop in downtown Juneau that sold fine art, products for modern Indigenous...
---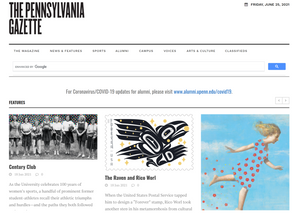 Lead designer, Rico Worl, got his undergraduate degree from University of Pennsylvania and is honored to be featured in the Gazette today! The Pennsylvania Gazette is an alumni magazine; Written for, about, and frequently by, alumni, the Gazette's viewpoint is as wide-ranging as the readership it serves and is committed to reinforcing the richness and diversity of the Penn experience. Read the article here: https://thepenngazette.com/the-raven-and-rico-worl/