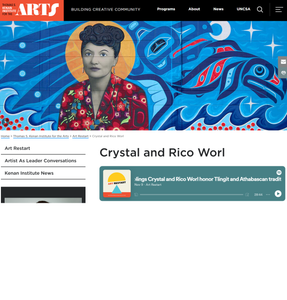 Take a listen to an Art Restart podcast interviewing Rico and Crystal. Art Restart is a podcast out of the Kenan Institute for the Arts. Gunalchéesh Pier Carlo Talenti for featuring our story! https://www.uncsa.edu/kenan/art-restart/crystal-rico-worl.aspx  
---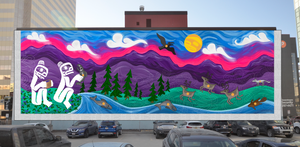 Trickster Company's designer Crystal Worl will be working on a mural for a privately-owned building on G street in partnership with the building owners, Larry and Barbara Cash of Rim Architects, the Anchorage Museum, APU, the Alaska Mural Project and the Anchorage Downtown Partnership. The project planning started in 2021 and is coming to fruition in fall 2022 when she starts painting her design that embraces Anchorage as a gathering place of Indigenous peoples from around Alaska. A mockup of the mural: Read more here.
---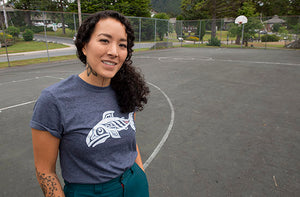 Crystal has teamed up with Project Backboard, a nonprofit that aims to renovate basketball courts to revitalize their respective communities, and Five Star Basketball, a company that hosts basketball teaching camps for kids, to renovate a court with Formline art! Together, Project Backboard and Five Star are committed to renovating 20 basketball courts in communities across the country in 10 years.  The court at Sitka's Crescent Harbor Park is one of those.  To stay updated on their efforts, check out Project Backboard and Five Star!  Read more in the Sitka Sentinel here. Stay tuned for the finished product!    
---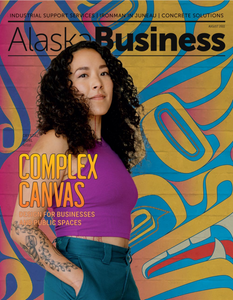 Trickster Designer and Artist, Crystal Worl, was featured on the cover of the Alaska Business Magazine and the lead story on public art in Alaska!  She's been on a whirlwind of large public art projects that include murals in Juneau and Anchorage.  This summer, she designed and painted a basketball court in Sitka, Alaska.  Read here.
---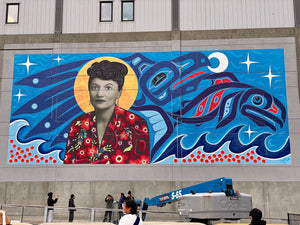 Learn more about Crystals Elizabeth Peratrovich mural!     https://www.sapiens.org/culture/crystal-worl/